As someone who is interested in natural health, I occasionally enjoy reading on the website of Sarah, "
The Healthy Home Economist
."
Therefore it was rather shocking for me to discover a post by Sarah titled "
Natural Birth Control Using Herbs
," dating back to October of last year. My shock was not rooted in the fact that she was entirely and utterly wrong on something, but that she was ignorant of the most basic of science underlying the issue of "birth control."
Lest any of my health-conscious friends and readers are deceived by her lingo, this post is intended to expose the abortifacient nature of the herbs Sarah is recommending, as well as her ignorance (or intentional deception) on this topic. Many of the comments on her original post expressed the same sentiments I am about to share, and yet Sarah has refused to take correction, so my goal is not to change her mind, as that is a lost cause. My goal is to show you the truth.
First off, the entire concept of "healthy infertility" is an oxymoron. Not being able to conceive children is the opposite of health, an indicator that things are not working as they in their most natural state should.
Nor does the fact that women have been using these methods for hundreds and thousands of years make them any more safe, healthy, or morally justifiable. Of course selfish mothers have been killing their own offspring since the beginning of time - duh! One need only crack open a Bible and read about heathen nations sacrificing their own children to false gods.
Herbs and other "natural" substances are extremely potent drugs - just as their synthetic, big-pharma counterparts. Arsenic is a natural substance, too - but consumed in the right quantities, it will lead to quick (albeit very "naturally induced") death.
Sarah breaks her post into two main parts:
1) Sterility promoting herbs: Again, the entire concept of being healthy by disrupting the most basic and important aspect of human health - reproduction - is moronic to say the least. Infertility is ALWAYS a sign of less than ideal health in one aspect or another, whether that be age, weight, fibroids, diet, toxins, etc. - the list is endless.
Sarah fails to explain just how these herbs cause infertility, sometimes even permanently. Which of the body's many intricate systems do they mess with to disrupt fertility, sometimes permanently? What is being poisoned to the point that the incredibly smart human body decides it is too hostile of an environment for new life? Besides Sarah's anecdotal usage suggestions, what studies prove the safety of these "natural" infertility-causing herbs?
2) Implantation preventers: This is the second, and much more grievous point that Sarah expounds upon. Before we delve into it, here is a basic lesson in reproduction for those who don't know:
About midway through the monthly cycle, a woman's body will release an egg from the ovary (called ovulation). This egg then travels down the fallopian tube. About two more weeks later, if fertilization of the egg did not occur, this microscopic egg is shed along with the lining of the uterus - the monthly cycle. Women are born with two ovaries, one on each side, and they normally alternate each month on releasing an egg. If a woman for some reason loses an ovary, the other will often take over by releasing an egg every single month.
However, if seed from a man is present in the roughly 48 hours following ovulation, under normal, healthy circumstances this will lead to fertilization of the egg, also called "conception." Please take note of this because modern science is changing these terms in order to make early abortion more palatable.
The fertilized egg, unlike its unfertilized counterpart, immediately begins the process of cell multiplication, even as it still travels down the fallopian tube. The newly conceived child has its own set of DNA, entirely different from his father or mother. This is an incredibly critical time, and an intrinsically hazardous journey.
If the rapidly growing egg were to get trapped by tissue in the fallopian tubes, or were to accidentally attach to the lining of the tube, it would lead to an "ectopic pregnancy," which almost universally leads to the loss of the still growing baby, as well as the likely rupture of the fallopian tube in the mother.
Sometime around 8 days after conception (fertilization of the egg), the developing baby has arrived in the mother's uterus, and burrows deep into the uterine lining where it attaches and later "taps into" mom via placenta and cord. Unlike the fallopian tube, the uterus is a muscle that has the capability to expand incredibly to support, protect, and nourish the child until it is ready to be born 9 months later.
Some doctors and scientists (though the minority) are attempting to spin the medical terms by referring to this implantation of the baby in the uterus as "conception," because it is at this point that the child (which again, is unique in his DNA and very much different from either of his parents) arrives at a certain benchmark destination. By the same logic, one could refer to birth itself as "conception," since that is when the baby first makes his visible appearance in the parents' arms.
The Bible is clear that a woman "conceiving seed" is the same as her being "with child.", seed being the Bible term for a man's contribution to this matter. But even if we left the Bible out of this, science has proven over and over that by definition, life begins at the point of fertilization (i.e. conception), as that is when the egg starts multiplying and developing.
Please also note the following terminology: if the fertilized, growing egg were to implant someplace other than the uterus, this is called an ectopic pregnancy. By Sarah's logic, which she shares with Planned Parenthood and pro-abortion doctors, the mother is not even pregnant until the child arrives in the uterus. I guess she would call this an ectopic pre-pregnancy?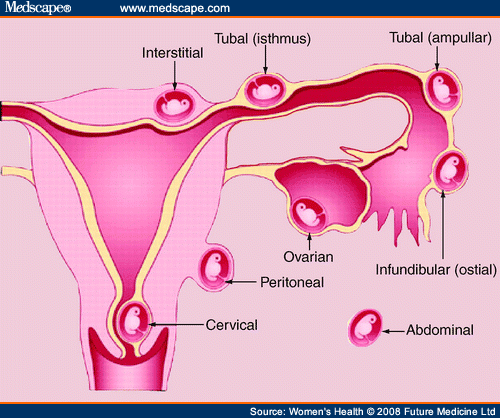 So back to the "implantation preventers" - as even the name suggests, they are not to stop a woman from conceiving, they are simply designed to prohibit something from implanting that naturally is intended to implant. Notice, the unfertilized egg needs no such attention - it will never attempt to implant of its own accord. That's the difference between a living human being, bent on survival, and an unfertilized egg that is not a living organism.
All the herbs Sarah is suggesting are to be taken "until menstruation begins," or to "bring on menstruation if necessary" if "an 'oops' occurs and unprotected relations take place during the fertile time." Nice! In other words, you are making your own herbal concoction for "morning after" or early chemical abortion. The way they work is by poisoning and/or destroying the lining of the uterus, so that the newly conceived baby cannot implant deeply, and is shed with the onset of the monthly cycle. These herbs also induce shedding of the uterine lining even if the child is fully implanted, but defenseless and unable to "hold on."
Furthermore, there is a real chance that this regimen is not going to be fully "successful" (for those defining success as the murder of their unborn), and will rather lead to a poorly implanted child which can bring about a host of issues down the road, such as placental abruption, low birth weight, etc.
Sarah is, in fact, sounding every bit as the founder of Planned Parenthood, and birth control pioneer Margaret Sanger, who made it clear many times that making sure menses would resume, "brought on" if necessary by the use of bleach and other similar methods, was the responsibility of every woman, and part of reproductive hygiene.
Many, many comments on Sarah's post stated what I am writing here, and she listened to none of them. She repeatedly reiterated the greater importance of the mother's health, with the example of her gut flora. Dear Sarah, I am infinitely more concerned about my uterine flora, than my gut flora. But neither comes close to my concern with right and wrong, or what God thinks of all this.
Please beware of Sarah's scientifically inaccurate, anecdotal, unsafe, toxic, and morally reprehensible "natural" ways to kill your own babies.