*** WARNING *** Contains images of animal body parts. Proceed at your own risk. Not for the pregnant and nauseous, or faint of heart. ;)
~~~~~~~~~~~~~
Sigh.
Not that making my own stock would be that difficult thanks to my handy slow cooker, but coming by good bones for making it is difficult and often expensive, especially since we typically go through 2-4 quarts per week.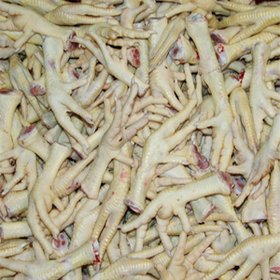 They clock in at just under $1.50/lb, and they are organic. The package is very big, so I suggest splitting it with another family.
Whether or not you are keeping it all for yourself (I did), it is easiest to divide the chicken feet into individual, gallon-size freezer bags of about 1.5 to 2 lbs each. Because they are packed before being frozen, the feet will all be stuck together in one massive block by the time you receive it. I simply put the whole package inside doubled-up large (new) trash bags, and then repeatedly dropped the entire block onto my tile floor. The frozen feet separated perfectly, and it was much faster and easier than trying to chisel out two dozen or so feet each time I wanted to make stock. This will take up quite a bit of room in your freezer, however.
To make the broth, simply add to a crock pot: frozen chicken feet (one gallon bag full, about 1.5 lbs), celery stalks or root, one whole onion, peeled carrots or parsnips, bay leaves, peppercorns, a splash of apple cider vinegar (will help draw minerals from bones), a bunch of fresh parsley, and water to cover.
Cook on low for 12-24 hours. Strain, fill into quart jars, and refrigerate (use within 5 days) or freeze (leave enough head space for expansion, and do not put a lid on it until the stock is completely frozen or the jar will burst). Because this is true bone broth, it will become gelatinous when cold, but will become completely liquid when heated.
The above batch yields about 4 qts of chicken stock. Very tasty, nutritious, economical, and free of questionable flavor enhancers.
The process is the same for making beef broth. We get our bones from the ranch whenever we order beef, so that is not something we order on Azure. You can order the
chicken feet on Azure Standard here
.
~~~~