Have you ever wondered what people who do not have a television do for entertainment?
Back when I was in 7th or 8th grade my class was on a school field trip hiking through the woods in a very backward part of Bavaria (Germany). We passed near an old farmhouse, and one of my friends whispered to me that she had heard the family who lived there didn't have a TV. It was as if someone had told me they believed the Earth was flat. No TV? I mean, did they even have electricity and running water? Surely, they must have WANTED a TV, but just weren't able to have one for a lack of electricity?
The idea that a TV is as much a household staple as, say, indoor plumbing was ingrained in me, even though growing up we were (thankfully) not allowed to watch much. Not much by American standards, anyway - we probably averaged an hour a day.
Ever since my husband and I have been married, which will be 11 years tomorrow, we have never had a television. And honestly - we NEVER miss it. We never feel "bored" - I wish there were more hours in a day, there's so much to do!
I have loved and played this game since I was younger than Solomon
One thing all of us enjoy are board games. We have had so many hours of fun together playing games - well, until someone loses, that is.
But - all board games are not created equal. There may be hundreds of different kinds of "Monopoly" out there, but that does not make the game any more appealing.
Just like there are book publishers, there are companies that publish board games. Certain companies tend to publish certain types of games. In the world of board games, "Milton Bradley", "Hasbro", "Parker Brothers", and the like are what romance novels are to fine literature.
A great place to find "specialty" (i.e. prize-winning, high-quality, and usually imported) board games are game stores at the mall, so long as you can get past the columns of Monopoly and Trivial Pursuit. The staff there should also be able to help answer your questions, and make recommendations.
These are not all of our games and puzzles, but most of them. The last shelf was messy so I am not including a picture of it! :)
The most reliable indicator for great games is the German "Game of the Year" award, and I am not just being biased here. It is BY FAR the most prestigious board game award in the world - it's what the "Oscars" are to movies, minus drunk floozies in scandalous outfits. If a game has it, it is guaranteed to be truly great, and something you will enjoy playing for years and years.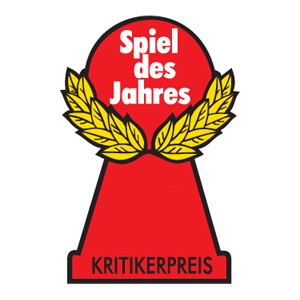 Below is a list of past winners. The ones in bold are games we currently own. The ones in italics are ones we have owned or played a lot in the past.
2011: Qwirkle
2010: Dixit
2009: Dominion
2008: Keltis
2007: Zooloretto
2006: Thurn and Taxis
2005: Niagara
2004: Ticket to Ride
2003: Alhambra
2002: Villa Paletti
2001: Carcassonne
2000: Torres
1999: Tikal
1998: Elfenland
1997: Mississippi Queen
1996: El Grande
1995: The Settlers of Catan
1994: Manhattan
1993: Call My Bluff / Liar's Dice
1992: Um Reifenbreite
1991: Drunter und Druber
1990: Adel Verpflichtet / Hoity Toity
1989: Cafe International
1988: Barbarossa
1987: Auf Achse
1986: Heimlich & Co. / Top Secret Spies
1985: Sherlock Holmes Consulting Detective
1984: Railway Rivals
1983: Scotland Yard
1982: Enchanted Forest
1981: Focus
1980: Rummikub
1979: Hare and Tortoise
Other than buying a game based on awards (and nominees for awards), these are the names of board game publishers that reliably release great games:
Rio Grande Games
Ravensburger
Hans im Glück
Kosmos
F.X. Schmid
Schmid Spiele
Especially for kids also:
Gamewright
Haba
Selecta
Board games are great fun for kids of all ages. I have so many memories of playing games with my older brothers. Our kids, in turn, play games pretty much every single day, and also enjoy building puzzles that actually fit properly, and only one way. Next time you are at the mall, why not see if they have a board game store? If you end up buying a game, it will make for wonderful nights of family fun.
~~~~~~~~~~~~~~~
For now, here is a little giveaway to reward those of you who have read through this long-winded post:
This is an extremely popular specialty children's game. So popular, in fact, that about 10 different variations have been made from it, but this is the original one. It retails for $35-40. I snatched up this particular copy at the thrift store for $1.50, planning to give it away because we already own a copy of it.
This game is what is known as a "cooperative" game, meaning that instead of children playing against each other, they all fight together to win against a common enemy, in this case a hungry raven that wants to eat the fruit in the orchard. The children either all win together, or all lose. I am not against competitive games at all, but this one is not that type.
The fruits are all made from wood, as are the little fruit baskets for collecting the fruit. This game is great even just used as a toy, to sort fruit into baskets, or for pretend play.
To enter, simply leave a comment below about your favorite board game, games you enjoyed playing as a child, or other ideas for spending quality time with the family that do not involve electronic gadgets.
The fine print:
Open only to US residents (Sorry... the box is very big and would cost a fortune to ship overseas)
Anonymous comments are ok, but you must include your name. You don't have to like me to win, but rude comments will not be published. If you win, I will obviously need your shipping address, though.
Only one entry per family
The game is complete, but in gently used condition.
Giveaway ends 11:59 PM next Sunday, August 21st.