Found this recipe
here
and loved it so much I wanted to share it. I did make a couple of changes in the below recipe from the original, such as using whole wheat flour in place of the all-purpose, and mixing the cinnamon-sugar into the dough rather than sprinkling it on and rolling the loaves up. I figured that would make it easier to slice the loaves without them falling apart, which it did. I also lowered the oven temperature and shortened the baking time, after several reviews on the original recipe mentioned that the loaves would otherwise start turning too dark.
The loaves came out wonderfully moist and fragrant. Even using 100% whole wheat, they were easy to slice, even thinly, without crumbling. This recipe has been added to my stash of all-time favorite staple recipes.
This is enough to make three loaves - one to eat fresh out of the oven, one to have for breakfast the next day, and one to freeze or give away!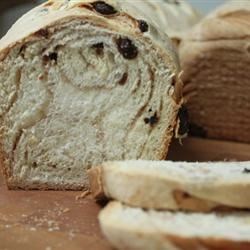 1 1/2 cups milk

1 cup boiling water

2 (.25 ounce) packages active dry yeast

3 eggs

1 1/4 cup sugar

1 teaspoon salt

1/2 cup butter, softened

1 cup raisins

8 cups whole wheat flour (or all-purpose, or both)

2 tablespoons ground cinnamon

2 tablespoons butter, melted
| | |
| --- | --- |
| 1. | Mix milk and boiling water in mixing bowl to get a lukewarm milk-water-mixture. |
| 2. | Dissolve yeast in warm milk-water-mixture, and set aside until yeast is frothy. Mix in eggs, sugar, butter, salt, raisins, and cinnamon. Add the flour gradually to make a stiff dough. |
| 3. | Knead dough in mixer or by hand on a lightly floured surface for a few minutes. Place in a large, greased, mixing bowl, and turn to grease the surface of the dough. Cover with a damp cloth. Allow to rise until doubled. |
| 4. | Punch dough down, cut into thirds, shape each into a loaf and tuck under ends. Place loaves into well greased 9 x 5 inch pans. Lightly grease tops of loaves. Let rise again for 1 hour. |
| 5. | Bake at 325 degrees F (175 degrees C) for 35-45 minutes, or until loaves are lightly browned and sound hollow when knocked. Remove loaves from pans, and immediately brush with melted butter. Let cool before slicing. |