Surprisingly often, I get asked about what particular brand of peanut butter cups my husband enjoys eating, as this is something he mentions in his sermons regularly.
For those of you who don't know, my husband enjoys long distance running, and has found that peanut butter cups are the perfect fuel to keep him going without weighing him down.
The standard
Reese's peanut butter cups
contain synthetic preservatives, conventional soy, and questionable emulsifiers, and are therefore a "thanks-but-no-thanks" item around here. In looking for healthier alternatives, we have found the following to be delicious wholesome versions of this sweet treat:
-
Newman's Own
organic peanut butter cups: available in milk, dark, and super dark version. My husband likes dark the best, but will have the other varieties occasionally to mix things up a bit. Each pack contains three small-ish cups, which is nice for sharing. Or portion control. Or neither if you just want to eat them all :)
Azure Standard carries these
, which is always a nice plus, since their price is the best.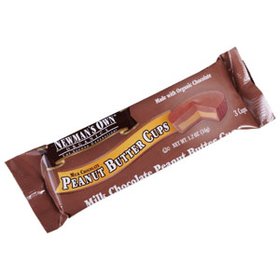 -
Justin's
organic peanut butter cups, available in milk, dark, and white version. You can buy either a big box with small, individually-wrapped PB cups, or 1.4 oz packages that are comparable in size to Reese's. We prefer the latter because they travel better, though the first is available at our Costco, and is also perfect for a very reasonably sized treat to enjoy at home. Again, dark is our first choice, though milk is certainly just as delicious. If you are doing THM, one small individually wrapped dark chocolate cup only has 5g of sugar, and can thus stand in for a little S treat.
Both of these can be found at your local Whole Foods, or on Amazon. I have found the price on Justin's to be best in store at Whole Foods lately, as they are on sale there, and get an additional 10% off when we buy a whole "case", which is just 12 packs of PB cups.
Hope this helps someone in need of a good treat. No peanut butter cups were harmed during the writing of this post (eating them doesn't count though, right)?